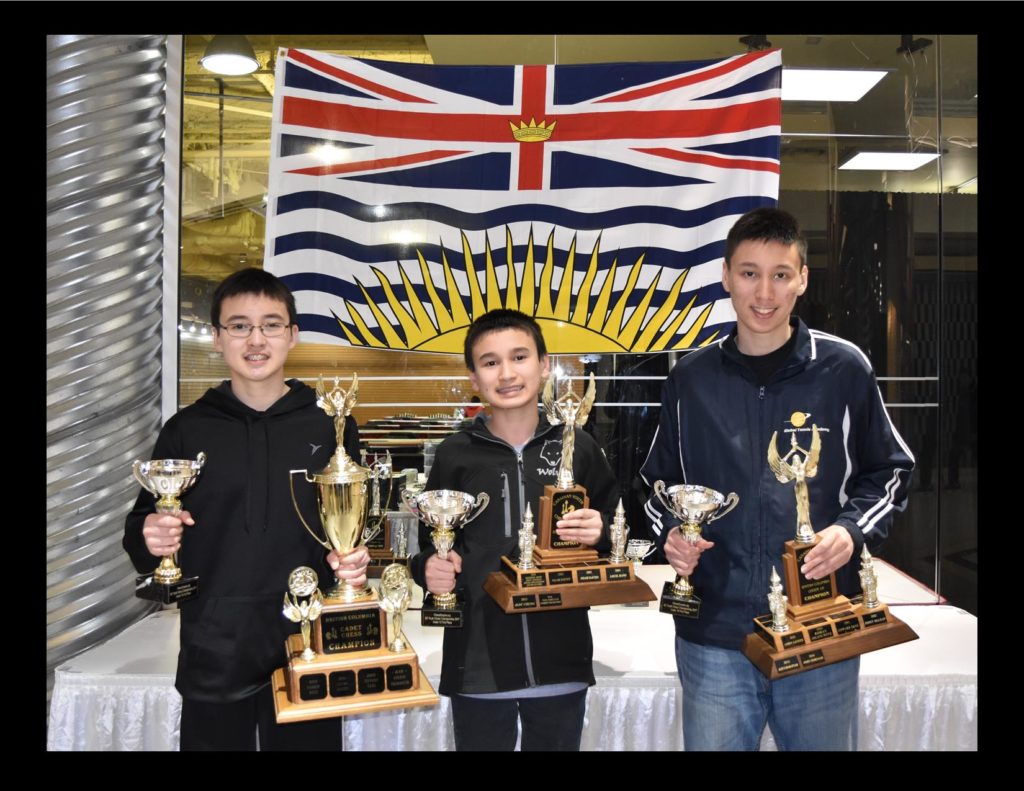 2017 BC Youth Chess Champions for U16, U12, and U18 Sections
~~~~~~~~~~~~~~~~~~~~~~~~~~~~~~~~~~~~~~~~~~~~~~~~~~~~~~~~~~~~~~~~~~~~
John Doknjas is a FIDE Master with many chess accomplishments including winning the 2015 Grand Pacific Open, which is the largest tournament in BC; and winning the BC Junior Championship (best under 20 yrs. old in BC) in 2011, 2014, 2015, and 2016. John has also won multiple National and Provincial Championship titles and in 2011, John was the youngest ever BC Closed participant (he has since also played in the 2012, 2014, and 2015 BC Closed). John joined Team Canada and competed at the World Youth Chess Championships in Greece (2015), Slovenia (2012), Greece (2010), and Turkey (2007). John has coached players and school teams including the 2012 and 2011 BC Elementary School Chess Team Champions. He enjoys conducting engaging chess workshops and chess simultaneous demonstrations. John also teaches private lessons with both juniors and adults.
More about FIDE Master John Doknjas.
Joshua Doknjas is a National Master and was the 2012 U10 Canadian Champion and the 2010 U8 Canadian Champion. Joshua won the 2015 BC Junior Championship. He has also won numerous National and Provincial Championships. Joshua competed at the 2010 World Youth Chess Championship (WYCC) in Greece and tied for 29th in the World — he also competed in the 2012 WYCC in Slovenia and the 2015 WYCC (Greece). In 2014, Joshua qualified for the BC Closed, becoming the youngest participant ever (he also played in the 2015 BC Closed). Joshua has taught in various chess workshops and school chess team practices; as well as performed in chess simultaneous demonstrations. Joshua also teaches private lessons with both juniors and adults.
More on National Master Joshua Doknjas.
Neil Doknjas won the 2016 BC Junior Championship and was the 2012 U8 National Canadian Champion. He went on to compete in the World Youth Chess Championship held in Slovenia (2012) and in Greece (2015). Neil won 2nd place (tied) in the 2015 U10 Canadian Youth Chess Championship and has won the BC Youth Chess Championship for his age in 2017, 2016, 2014, 2013, and 2012; as well as the BC Chess Challenge (Provincials by grade level) in 2016 (Grade 5) and 2014 (Grade 3). Neil is the youngest ever Langley Club Champion, winning the title in 2014. Neil has taught in various chess workshops and chess team practices; as well as conducted chess simultaneous demonstrations.
More on Neil Doknjas.
Victoria Doknjas, a past BC Women's Championship competitor, became the first ever BC Senior Women Champion in 2015 and the 2016 Canadian Senior Woman Champion – 50 Years or Better. Victoria has organized and directed numerous chess tournaments, including the BC Senior Championship (from 2013 to the present) and the 2014 BC Junior Championship. Victoria was the Head of Delegation for Team Canada at the 2015 World Youth Chess Championship and at the 2014 North American Youth Chess Championship. She was also Team BC Captain at the Canadian Chess Challenge in 2012 (3rd place) and 2011 (2nd place). She has managed and organized provincial championship school chess teams and school chess clubs; and teaches private lessons.
More on Victoria Jung-Doknjas.