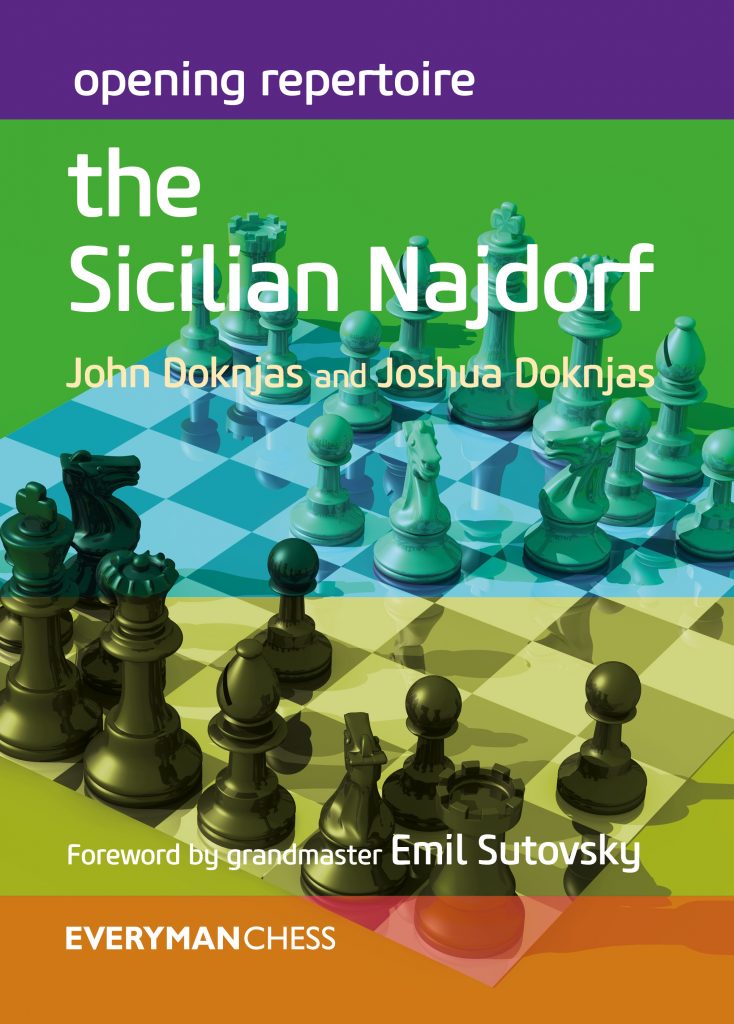 Everyman Chess
UK and Europe Release Date: December 2018
Amazon.com
USA and Canada Release Date: March 2019
~~~~~~~~~~~~~~~~~~~~~~~~~~~~~~~~~~~~~~~~~~~~~~~~~~~~~~~~~~~~~~~~~~~~~~~
National Master Joshua Doknjas' video on his book, Opening Repertoire: The Sicilian Najdorf, co-authored by FIDE Master John Doknjas, published by Everyman Chess.
eBook available: https://everymanchess.com/products/opening-repertoire-the-najdorf
~~~~~~~~~~~~~~~~~~~~~~~~~~~~~~~~~~~~~~~~~~~~~~~~~~~~~~~~~~~~~~~~~~~~~~~
"Writing a book on Najdorf is always a challenge. Writing it from the black side is an even bigger challenge, as you have to deal with the numerous dangerous lines – and I was a bit sceptical when the request to review the present book arrived. Honestly, I didn't know much about Joshua and John, but their joint effort was a pleasant surprise. Long past are the days when one had to be a strong Grandmaster and renowned theoretician to write an opening manual. The Doknjas brothers penned a comprehensive repertoire book on one of the most complex openings, and managed to make it a good read as well as an in-depth research. The authors discuss both topical and side lines, they bring a lot of key games that are augmented by their analysis, and even provide the reader with tasks and puzzles. They focus on their favorite lines – as repertoire books usually do, but keep being in touch with the reader and do not dig too deep. They obviously use engines, but there is no feeling it was overused – it is pretty much a human book.
This is the first such massive work for the Doknjas brothers, and as often happens in these cases – you see a lot of passion for the work and it resulted in a book that will be useful for both club players and Grandmasters."
– Grandmaster Emil Sutovsky
President of the Association of Professional Chess Players
Aeroflot Open and Gibraltar Chess Festival Co-Champion
Olympic Gold Medalist for Team Israel
~~~~~~~~~~~~~~~~~~~~~~~~~~~~~~~~~~~~~~~~~~~~~~~~~~~~~~~~~~~~~~~~~~~~~~~
"Every now and then there comes a book that just makes things simple and understandable. This book is one such rare gem.
John and Joshua Doknjas make a substantial effort to dissect one of the most complex and often misunderstood openings and provide the user with objective understanding of the many complex lines. Notably, this is done while maintaining an eminently easy to read and enjoyable format and writing style. The book is full of passion, reflecting the young authors' love for the game. The sample games are well chosen and annotated and present good examples of the various lines and their pros and cons.
Perhaps more importantly, the book does not require the reader to memorize countless lines until move 30, but rather strives to develop the general feel for the resulting middlegame positions and typical plans and transformations.
If you would like to develop an appreciation for this complex opening, improve your general understanding of the game, and have an enjoyable read, then this book is for you, whether you are a weekend club player or a seasoned grandmaster."
– International Master Yan Teplitsky
Former National Youth Coach
Olympic Medalist for Team Canada
~~~~~~~~~~~~~~~~~~~~~~~~~~~~~~~~~~~~~~~~~~~~~~~~~~~~~~~~~~~~~~~~~~~~~~~
"When I was asked to review this book, I thought I was doing John and Joshua Doknjas a favor by writing it; after all, I am a grandmaster with more than 20 years of experience in the Najdorf, on both sides of the board. I was curious what the book could offer me. I jumped immediately to the chapter featuring my life-long pet line (with both colors), the English Attack… and I almost instantly fell in love with the book. Easy to read, yet covering all the critical lines, well-chosen sample games, thorough engine analysis where needed, and, maybe the most important asset: a crystal-clear, "human" explanation of the ideas and plans. The questions and puzzles are a nice bonus for readers of any level. Last, but not least, I compared the book with my analysis done in this line – and got to the conclusion that John and Joshua answered quite a few important questions from my repertoire.
As the rest of the book presented the same high-level work, I was quite impressed by what the young authors have achieved. When I first met them in 2014, I expected the boys to have a bright future on the board (and not only). Even so, it came as a pleasant surprise to me to review such a high-quality work as their first book. After finishing "Opening Repertoire: The Sicilian Najdorf", I knew that my initial thought was wrong: the Doknjas brothers were doing me a favor!"
– Grandmaster Gergely Szabo
FIDE Trainer and Captain of the 2018 Canadian Women Olympiad Team
Head Coach of the Canadian delegation at the 2015 World Youth Chess Championship
Trainer and Captain of Team Canada at the 2014 World U16 Olympiad
~~~~~~~~~~~~~~~~~~~~~~~~~~~~~~~~~~~~~~~~~~~~~~~~~~~~~~~~~~~~~~~~~~~~~~~
"The Najdorf is a difficult opening to write about, especially when publishing a book for the first time, but John and Joshua Doknjas surpassed expectations and delivered a wonderful piece of work. Each one of the chosen games are very instructive and well annotated, covering a variety of different lines. The exercises and questions are a fantastic supplement to the sample games and allow the reader to gain a better understanding of the opening.
John and Joshua provide very comprehensive analysis in a format and style that is easy to follow. One of the great features about this book is that the authors do not dive too deep into specific variations, rather they focus on more general ideas and typical plans that arise within the Najdorf."
– FIDE Master Jason Cao
2010 World U10 Champion
Three-time British Columbia Champion
~~~~~~~~~~~~~~~~~~~~~~~~~~~~~~~~~~~~~~~~~~~~~~~~~~~~~~~~~~~~~~~~~~~~~~~
"Opening Repertoire: The Sicilian Najdorf is a must-read for any aspiring chess player who wishes to deepen their understanding of this complex opening. John and Joshua Doknjas, two young Canadian masters, have extensive experience playing the Najdorf against titled players on the international stage. For the first time, they reveal a treasure trove of opening secrets that they have discovered through their own praxis and research.
The first chapter deals with the English Attack, in which John and Joshua suggest suppressing White's potential pawn storm attempts with 8…h5. Throughout the chapter, the Doknjas brothers offer clear and concise explanations in plain language which players of all levels will find accessible. The illustrative games selected from grandmaster play are carefully chosen, accompanied by an appropriate number of diagrams for smooth reading. Several instructive exercises and questions are included at the key moments of each game to reinforce recurring themes and motifs. Comprehensive analysis of alternate ideas and sidelines maintains an objective perspective throughout the text. The reader will find John and Joshua's insights into the typical plans associated with each Najdorf pawn structure especially intriguing. A helpful summary of the key moments and main ideas is provided at the end of each illustrative game. The authors also include several indispensable features throughout each game: subtle move-order tips, transpositional possibilities, prophylactic measures, and dynamic counterplay opportunities for both sides.
Opening Repertoire: The Sicilian Najdorf is an enjoyable read and will appeal to casual chess enthusiasts and avid tournament players alike. This book will make an excellent addition to the library of any player seeking to improve their results in over-the-board, correspondence, or online play. John and Joshua Doknjas' passion for this wonderfully complex opening resonates throughout the book and will no doubt inspire many to take up the Najdorf!"
– National Master Josh Sinanan
President, Washington Chess Federation
~~~~~~~~~~~~~~~~~~~~~~~~~~~~~~~~~~~~~~~~~~~~~~~~~~~~~~~~~~~~~~~~~~~~~~~
"I have been provided with a copy of Chapter 1 from Joshua and John Doknjas' new book on the Sicilian Najdorf and asked to review it. The topic of the chapter is the English Attack which has been quite a popular line both at the grandmaster level and in the praxis of club players. I have enjoyed playing this line as both White and Black and appreciate the level of thought and work which has gone into preparing this volume. The chapter revolves around seven games played from 2008 to 2017. Each game is well annotated and the reader who works his or her way through the exercises and explanations should be well prepared to play this variation on either the White or Black side of the board. The book provides plans and ideas in addition to the variations necessary to play the opening struggle which arises when White develops his Bc1 to e3.
In addition to the games there are a series of exercises and questions integrated into the text which are designed to guide the student in helping to explore the rich theory and ideas that one needs to master to play either side of this opening.
Having known John and Joshua from a very young age I am quite proud that they have clearly poured much love into this work of analysis of one of the most popular openings in chess today. I met them in Ottawa in 2013 at the Canadian Youth Chess Championship and the subsequent Canadian Open which were held back to back as they usually are. This was shortly after I was first elected to be President of the Chess Federation of Canada. Surprisingly enough I continue to hold this position even today as I write this review in 2018.
If you play this opening you will want this book which compares favorably to available literature which grows stale with each passing day. I find the suggestions quite intriguing and the approach in teaching this opening as somewhat fresh. I found it easy to follow the book even without a board. When the full book becomes available I will devour it especially if the chapter that I studied in this review is representative of the rest of the book. I have read many books on the Sicilian Najdorf over the years going back to the 1970s including some that specialized in the English Attack. This volume will become my new favourite and I eagerly await the publication date so that I can get my hands on the full book. In the meanwhile, I hope to use some of the ideas in this book in my next tournament.
I highly recommend this volume by two fine young master chessplayers from British Columbia, Canada. I can't wait to see what their next book will cover if this is typical of what we can expect from them."
– National Master Vladimir Drkulec
President, Chess Federation of Canada
~~~~~~~~~~~~~~~~~~~~~~~~~~~~~~~~~~~~~~~~~~~~~~~~~~~~~~~~~~~~~~~~~~~~~~~
"The names of the Doknjas brothers might not be that well-known outside their native Canada, but kudos to Everyman Chess for commissioning this impressive Najdorf repertoire. FM John and National Master Joshua might not be the very strongest of players, if still pretty good, but their love of the Najdorf is undoubted. Their analysis is impressive too, both of the critical opening stage and throughout each of the 42 annotated games. Overall, this is a cutting edge black repertoire, featuring the likes of 6.g5 bd7 and 6.e3 e5 7.b3 e6 8.f3 h5, as played by Mr. Najdorf himself, Maxime Vachier-Lagrave."
– Sean Marsh
Chess Magazine – February 2019 Edition
~~~~~~~~~~~~~~~~~~~~~~~~~~~~~~~~~~~~~~~~~~~~~~~~~~~~~~~~~~~~~~~~~~~~~~~
~~~~~~~~~~~~~~~~~~~~~~~~~~~~~~~~~~~~~~~~~~~~~~~~~~~~~~~~~~~~~~~~~~~~~~~
"The Najdorf has a reputation for being a theoretical monster. Indeed entire books have been written on single variations (6.Bg5 and 6.Be3), but the two young masters from British Columbia have done an excellent job of making this book accessible to the layman without dumbing things down. Model games, plenty of questions and answers and extensive explanatory prose throughout make this a terrific book to learn from for all but professional players."
– IM John Donaldson
~~~~~~~~~~~~~~~~~~~~~~~~~~~~~~~~~~~~~~~~~~~~~~~~~~~~~~~~~~~~~~~~~~~~~~~
~~~~~~~~~~~~~~~~~~~~~~~~~~~~~~~~~~~~~~~~~~~~~~~~~~~~~~~~~~~~~~~~~~~~~~~
"The Najdorf Variation was a mainstay in the opening repertoires of many top grandmasters, including world champions Fischer and Kasparov. Over the years it has ebbed and flowed in popularity but never disappeared from competitive play. In my youth I recall John Nunn writing what was then considered the definitive work on ¥g5 systems against the Najdorf. Today, you could easily devote a whole monograph to just the sub–variations! In today's world, massive opening compendiums are almost the norm, and even my own books on the Dragon, Closed Sicilian and the English Opening are examples of this. Of course, just glancing at this massive work by the Canadian duo of John and Joshua Doknjas might scare off most players from taking on such a complicated opening as the Najdorf Sicilian. Nevertheless, although not a Najdorf specialist myself, it seems to me that they have succeeded in putting together a repertoire for Black that is both playable and manageable. They present their material on the basis of 42 main games, incorporating in their annotations not only specific lines of play but also explanations of typical ideas and methods of play in the Najdorf, using the Q&A format with which we are familiar from the Move by Move series published by Everyman..
While the authors have taken some short–cuts when selecting material for their suggested repertoire, this is a case of necessity otherwise average players will be simply overwhelmed by the maze of complicated variations. However the authors give persuasive reasons why their chosen lines of play will work in practical play and do their best to prepare the reader also for the middlegame battle that lies ahead. It is clear that they have a fine understanding of the opening and enjoy sharing their knowledge, all of which makes this book a good choice for those who are ready to take up the challenge of playing the Najdorf for the first time or for those existing Najdorf practitioners who want to update their theory in time for the next over–the–board encounter. An excellent debut effort by the brothers from up north."
– FM Carsten Hansen
American Chess Magazine #10
~~~~~~~~~~~~~~~~~~~~~~~~~~~~~~~~~~~~~~~~~~~~~~~~~~~~~~~~~~~~~~~~~~~~~~~
~~~~~~~~~~~~~~~~~~~~~~~~~~~~~~~~~~~~~~~~~~~~~~~~~~~~~~~~~~~~~~~~~~~~~~~
"The Sicilian Najdorf is a chess opening with an awesome and terrifying reputation. To create a book that covers the theory-heavy favorite choice of aggressive and sharp players like Bobby Fischer and Garry Kasparov is no trivial task. As someone that does not regularly play the Sicilian, even approaching this book for a review seemed daunting. However, the Doknjas brothers were up to the task and delivered a very readable and useful book that does the Najdorf justice. Indeed, I have started playing the opening myself and have not only enjoyed decent results, but had many enjoyable positions.
The Doknjas brothers are a pair of strong players (an FM and NM from Canada) that boast a resume of chess teaching, although this appears to be their first book. Although they don't feature their own games in the book, online databases show that they do employ the Najdorf with success.
The back cover provides an apt description of the book, a true testimonial to its quality:
"The Najdorf is a very rare thing – an opening for Black that is highly aggressive but is also recognized as being objectively sound. In this book, FIDE Master John Doknjas and NM Joshua Doknjas navigate through the main lines of the Najdorf and provide the reader with well-researched, fresh, and innovative analysis. Each annotated game contains instructive commentary on typical middle-game plans. With thorough variations and explanations on pawn structures and piece placement, this book provides insight to both strong masters and less experienced players alike."
This book features forty-two complete games in the chosen lines all stemming from 1.e4 c5 2.Nf3 d6 3.d4 cxd4 4.Nxd4 Nf6 5.Nc3 a6.
Almost every game in the book is from this decade, with fifteen as recent as the past three years. The table of contents is followed by a note about the authors, a short but high-quality bibliography, and a foreword by GM Emil Sutovsky. The coverage of the lines is organized as follows:
Introduction (5 pages, 1 game)
The English Attack: 6.Be3 (51 pages, 7 games)
Theoretical Paths: 6.Bg5 (46 pages, 7 games)
The Sozin 6.Bc4 (48 pages, 5 games)
The Classical: 6.Be2 (50 pages, 6 games)
The Fianchetto: 6.g3 (30 pages, 4 games)
Patient Prophylaxis: 6.a4 (19 pages, 2 games)
Early Skirmish: 6.f4 (31 pages, 4 games)
The Adams Attack: 6.h3 (20 pages, 3 games)
Offbeat Trials: 6.Qf3, 6.Rg1, 6.h4, etc (37 pages, 3 games)
So how do the authors manage the complex theory of the Najdorf? The format of the book is fairly standard for the Everyman Chess Opening Repertoire Series: complete games are annotated, with frequent call-outs that highlight particular points or tactical motifs. The annotations are at times dense – I would have expected nothing less considering the opening. A quick comparison of the number of games and the number of pages in each chapter should give you an idea of the level of detail devoted to each game.
Despite the large number of variations considered for most moves, the annotations are peppered with lots of explanatory prose, which is written in a clear and to the point style. An excellent example of this is found in Game 16, A. Naumann – A. Areshchenko (European Club Cup, Halkidiki 2002 – one of the older games found in this book). Picking up the annotations after the moves 1.e4 c5 2.Nf3 d6 3.d4 cxd4 4.Nxd4 Nf6 5.Nc3 a6 6.Bc4 e6 7.Bb3 b5 8.Bg5 Be7 9.Qf3 Qb6 10.0-0-0 0-0 11.Rhe1
Question: What is White trying to accomplish with this move?
Answer: He wants to reinforce his e-pawn and possibly plans a rook lift (Re3 and then Rg3 or Rh3 after the queen gets out of the way). 11.Rhe1 is also a useful waiting move.
White has some alternatives here:
g4 b4 12.Na4 Qc7 13.Rhe1 Nc6 gave Black an excellent game in C.Mokrys-M.Avotins, correspondence 2011. Notice how Black fights actively for the dark squares in the centre after White began playing on the flank with 11.g4
e5? reveals one of the points of Blacks 9…Qb6 move as, after 11…dxe5! White shouldn't take the a8-rook with 12.Qxa8? due to 12…Bb7, when Black's queen covers the a7-square, cutting off the white queen's escape (12…exd4 is also winning for Black).
Qg3 reveals White's hand too early. Since the white queen no longer x-rays the h1-a8 diagonal, Black can play 11…Bd7! And following 12.Rhe1 b4 (12…Nc6 is also possible, which will transpose to the 13…Bxc6 variation of the main game if White captures on c6; while after 13.Nd5 Nxd5 14.Nxc6 Bxg5+ 15.Qxg5 h6 16.Qd2 Bxc6 the game is level). 13. Na4 Bxa4 14.Bxa4 Qa5 15.Bh6 Nh5 16.Qb3 gxh6 17.Nxe6 Bg5+ 18.Nxg5 Qxg5+, Black is up a piece for a pawn. White has some compensation in the form of more active and coordinated pieces, but not enough to claim an edge viewed against Black's material advantage.
11…Bb7!
Question: What is the point of this move?
Answer: 11…Bb7 is not at all the most popular move, but we believe it is the best. Black's idea is to play …Nc6 and take back with the bishop (not the queen) if White chooses to play Nxc6. One of the points of doing this is that if White eventually wins the d6-pawn with Rxd6, he will not do so with tempo. Also, by leaving the queen on b6, Black is able to play ….Qxf2 in some lines.
The above game continues over another seven pages to conclude in a draw at move 53. As you can see, the authors do not shy away from sharp positions, but make rational choices about their repertoire and explain them in very clear terms. This is also evident in their choice against 6.Bg5 – they opt for 6…Nbd7, avoiding the extremely sharp and theory heavy Poison Pawn system.
This book should appeal to a wide range of chess players and fans of the Sicilian. Understanding a rich mainline opening like the Najdorf can be important for general chess improvement, and can be a formidable weapon even at the elite level. It is no surprise that this opening has been the choice of many great chess players, and this book makes it accessible to club players – cursory reading of the variations and the main ideas is likely to be useful for players 1600-2000, and stronger players should benefit from careful reading of the variations and incorporation of these ideas into their repertoire. Thanks to this book, I'm likely going to be playing 1…c5 at my next tournament."
– Devin Camerares
Chesscafe.com
~~~~~~~~~~~~~~~~~~~~~~~~~~~~~~~~~~~~~~~~~~~~~~~~~~~~~~~~~~~~~~~~~~~~~~~
~~~~~~~~~~~~~~~~~~~~~~~~~~~~~~~~~~~~~~~~~~~~~~~~~~~~~~~~~~~~~~~~~~~~~~~
The Najdorf Sicilian is one of Black's most respected and popular responses to 1 e4. It was favoured by those two titans of the game, Bobby Fischer and Garry Kasparov and in the modern game it features in the repertoire of many elite players. This rich opening creates a wealth of opportunities for vigorous attacks, causing most games to be tense and engaging. The Najdorf is that very rare thing – an opening for Black that is highly aggressive but is also recognised as being objectively sound.
In this book, FIDE Master John Doknjas and National Master Joshua Doknjas navigate through the main lines of the Najdorf and provide the reader with well-researched, fresh, and innovative analysis. Each annotated game has valuable lessons on how to play the opening, and contains instructive commentary on typical middle-game plans. With thorough variations and explanations on pawn structures and piece placement, this book provides insight to both strong masters and less experienced players alike. The format is ideal for the chessplayer keen to improve their game. While reading you are continually challenged to answer probing questions – a method that greatly encourages the learning and practicing of vital skills just as much as the traditional assimilation of chess knowledge. Carefully selected questions and answers are designed to keep you actively involved and allow you to monitor your progress as you learn. This is an excellent way to study chess while providing the best possible chance to retain what has been learnt.
Everyman Chess
UK and Europe Release Date: December 2018
Amazon.com
USA and Canada Release Date: March 2019