The 2019 North Vancouver City Chess Championships welcomes all students from Kindergarten to Grade 12. Players will play 5 rounds of chess with other students in the same grade section to vie for the title of the 2019 North Vancouver City Chess Champion!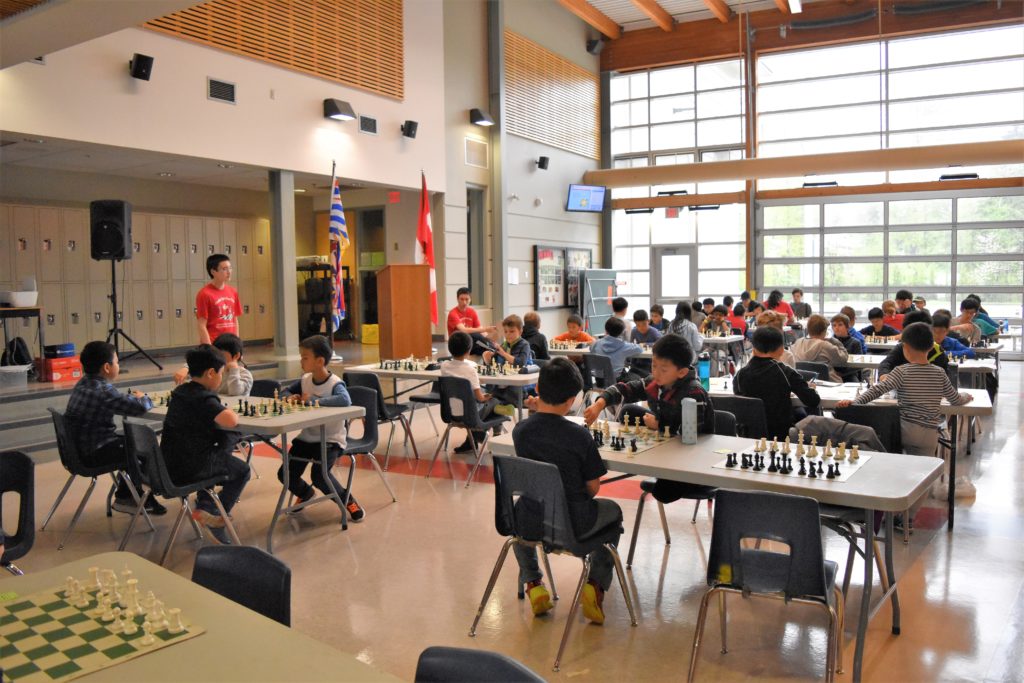 Check out who's playing: (Pre-registered list coming)
Date: Sunday, June 9, 2018
Venue: Sutherland Secondary, 1860 Sutherland Ave, North Vancouver, BC
Early Bird Entry Fee: $35 (until May 23, 2019).
Reg. entry fee: $40 after May 23, 2019.
Online registration will close on June 8 at 5pm.
There is no onsite registration.
Fill out Player Registration Form
Check-in: 9am to 9:30am
– You must first check in by 9:30am to be paired for Round 1. After 9:30am, come to check in as soon as possible to be paired for the next available round.
Round Times: 10am, 11am, lunch break, 1:30pm, 2:30pm, 3:30pm
– Award ceremony will commence immediately after Round 5 has concluded and the final standings calculated.
Time Control: 25 mins + 5 sec incr.
Bye Requests: 1/2 point byes are allowed if requested before the start of Round 2. Email your bye requests to: doknjaschess@gmail.com
Sections (may be combined based on # registered):
– Kindergarten-Gr 1.
– Grade 2-3.
– Grade 4-5.
– Grade 6-7.
– Grade 8-12.
Rating: This is a CMA (Chess 'N Math) rated tournament.
Prizes for Each Section:
– Championship Trophy and title of 2019 North Vancouver City Champion!
– 2nd and 3rd place Trophies.
– Class prizes (will be determined based the ratings of the players registered).
– Top unrated player Medals.
Note: Tiebreaks will be used as applicable (see FAQ for more info on tiebreaks).
Awards for the Top 3 School Teams:
– To qualify for the school team awards, there must be at least 3 students from the same school playing in the tournament. The students do not need to play in the same section.
– The highest 4 players' scores from the same school will be added together to determine the Top School Team Awards.
Details: Chess sets and clocks will be provided. Note that some boards may not start with a clock.
Chief Arbiter: National Master Joshua Doknjas
Deputy Arbiter: FIDE Master John Doknjas, NCM William Bremner, NCM Neil Doknjas
Chief Organizers: Wendy Matsubuchi and Victoria Jung-Doknjas
Food: TBD
============================
Sponsors: Interested in being a sponsor? Email: doknjaschess@gmail.com
=============================
FAQ
Tiebreak:
In the event of a tie, the following tiebreaks will be used for trophies/awards:
Cumulative Score.
Cumulative Score of Opponents.
Flip of Coin.
Parent Supervision:
Parents (or a designated adult) are expected to stay to help address the safety and well being of their children. This also helps to avoid any behavior issues and contributes to the smooth running of the tournament as a whole.
Got Questions or Need to Request a Bye?
Email: doknjaschess@gmail.com